Types Of Commercial Roofing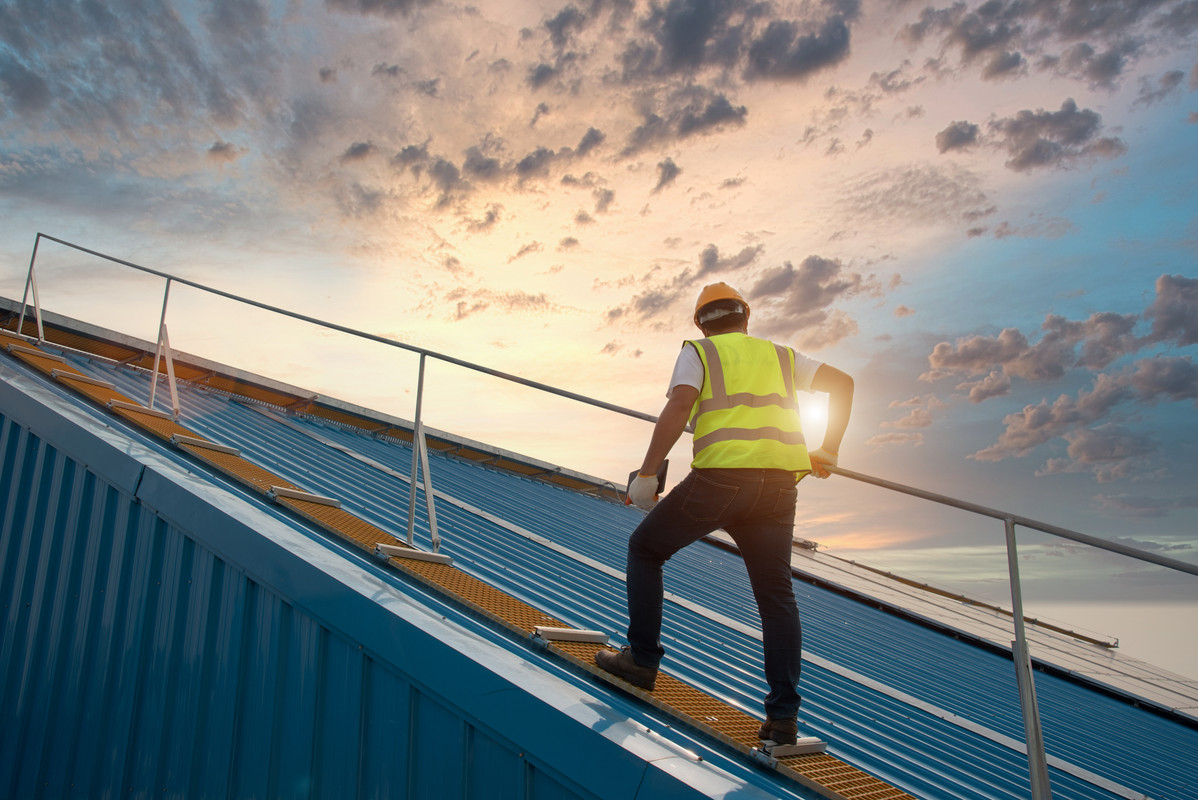 Depending on your building, you may need to replace your commercial roofing every 15 years or 50 years. Storms can damage roofs and leaks can affect the structure below. When these problems occur, you must have your roof replaced as soon as possible. In this article, we'll cover the different types of roofing available today. Read on to learn more about commercial roofing and how it can benefit your business. Here are some tips to consider when hiring a roofer.
Built-up Roofing
If you're planning to install a new roof for your business, consider a built-up commercial roofing system. The multiple layers of roofing create a stronger, more stable physical barrier. They also contribute to energy efficiency and are highly thermally resistant. In addition to its high resistance to heat conduction, a built-up roofing system is also affordable, and its cost per square foot is competitive with other types of roofing. Let's explore some of the benefits of a built-up commercial roofing system.
A BUR system consists of several layers of ply sheets reinforced with fiberglass and organic materials. These layers are then laid over hot or cold bitumen. When fully installed, these sheets adhere to the roof surface. Typically, they are produced in standard widths of 36 inches. The ply sheets are bonded together with a special adhesive, which prevents bleed-through. Afterward, they are treated with a protective flood coat.
A built-up roof system is easy to maintain. Repairs are not difficult, since built-up roofing membranes can be repaired with conventional materials. Moreover, the system has evolved as new products have been created to improve its performance. Multiple layers of reinforcement reduce the risk of leaks, while a single-ply membrane offers one chance to prevent leaks. Lastly, asphalt serves as the glue between layers of reinforced layers, delivering a thicker layer of water resistance than traditional roofing materials.
A built-up commercial roofing system is cost-effective. The average cost per square foot to install this type of roof is about $5.50 – $8.50. It is also waterproof and does not suffer from vulnerable seams. It also offers UV and fire protection. Besides, this type of roof lasts for up to 20 years, making it a smart investment for businesses. And since it is so durable, it can withstand extreme weather conditions.
EPDM (Ethylene Propylene Diene Terpolymer)
EPDM commercial roofing is a great choice for a variety of reasons. Its flexibility makes it easy to install and its durability makes it a great choice for many types of roofing projects. This synthetic rubber roofing is fire resistant and almost impossible to burn. It has even been known to slow down the progression of a building fire. In addition to being highly durable, EPDM roofing is easy to install and is known for its low maintenance costs. Many building owners prefer EPDM commercial roofing because of its durability and ease of installation. It is also known for better warranty coverage.
EPDM commercial roofing sheets are attached to insulation in the roof deck using seam tape and adhesive. Mechanically-fastened EPDM roofing systems are lightweight and can be installed on almost any building type. To install this type of roofing, you'll need sturdy decking. Mechanical fasteners are attached through the EPDM membrane and to side laps. Once the EPDM membrane is in place, the insulation is laid on top. The EPDM sheets overlap the insulation. A seam tape is placed on the exposed edges of the roofing.
In addition to being weather-resistant, EPDM roofing has the potential to last for over 50 years. This material does not change its physical characteristics over 30 years, making it a good choice for environmentally conscious businesses. In addition, EPDM roofing has low life cycle costs and helps keep less durable roofing materials from landfills. It can also be installed all year round, making it an excellent choice for buildings with fluctuating temperatures and weather conditions.
Modified Bitumen
Commercial roofs using modified bitumen have many advantages. They are more flexible than standard BUR roofing systems, and their high UV and puncture resistance makes them an attractive choice. Modified bitumen membranes are also easy to install, but a skilled roofer must be hired. Listed below are some of the pros and cons of each type of modified bitumen roofing. Make sure to hire a qualified and reputable manufacturer to ensure you get the best product for your building.
One major advantage of modified bitumen is its durability. Conventional asphalt roofing systems typically experience problems after ten years and need replacement. Modified bitumen roofs are known for the last 20 years. These roofs are extremely durable and waterproof. There are several different installation methods for modified bitumen roofing. The hot processing technique is most often used to ensure the highest durability. The following are some benefits of modified bitumen for commercial roofing.
– Lightweight: This roofing material is available in 36 to 39-inch rolls and is easy to install. Modified bitumen can be installed with minimal disruption. It's compatible with other asphalt-based roofing compounds. This makes it an excellent choice for buildings with tight spaces. It also has a long history of superior performance. Compared to thermoplastic roofing materials, it's easier to install and can be used in cold weather.
– Durability and strength: Modified bitumen is the most reliable roofing material on the market. It's affordable and durable. Modified bitumen roofs can last up to 20 years and even longer with proper maintenance. Roofing companies provide commercial roofing services using modified bitumen. You can contact us for more information about commercial roofing. You can also visit our website to find a certified roofing contractor in your area.
PVC (Polyvinyl Chloride)
A common question in the roofing industry is which roofing material is better for a commercial building: TPO, EPDM, or PVC? The answer is PVC. These materials have a variety of benefits, but the main difference between them is their price per square foot. PVC is more expensive than EPDM and TPO, but the latter material tends to be easier to maintain, which is why most businesses prefer them. Regardless of the material you choose, PVC commercial roofing is a good choice for many reasons.
Besides its excellent weather resistance, PVC roofing is also extremely versatile. It can be produced in various colors, thicknesses, widths, and reinforcements. Its heat-welded seam provides excellent waterproofing protection. It also resists stains and other damage from chemicals. Moreover, PVC roofing systems are environmentally friendly, offering a reduced environmental impact. If your commercial building is facing a harsh climate, PVC is a great choice for your roofing.
Another advantage of PVC commercial roofing is that it doesn't shrink or degrade over time, while TPO does. Shrinking roofing material can be problematic for a building's exterior, so it's crucial to choose the best material for the job. While both products are largely resistant to chemical spills, TPO tends to be more resistant to food grease byproducts and chemical outlets. Moreover, the color options for the job are larger with TPO, although certain manufacturers have a higher requirement for certain colors than PVC.
A PVC commercial roofing system can be fully adhered to the roof deck without tearing off the current roof system. Depending on the condition of the roof and local building codes, mechanically fastened PVC roofs are not as tear-resistant as welded systems. They can also be a good choice for reroofing, as the new PVC material will be less expensive than the old one. The cost savings will make your business a success.
Spray-On Roofing
Spray-on commercial roofing is a type of roof covering that is applied by spraying liquid foam over the existing roof. The liquid foam expands to fit the roof perfectly and offers excellent insulation for a building. Because it does not require the use of expensive materials or tools, spray roofing is affordable and easy to install. Another benefit of this method is that it can work with virtually any type of roof. Spray roofing also creates a waterproof barrier that prevents water from entering the building.
Despite the many benefits of this type of roofing, there are several drawbacks. While it is an efficient method, it is also difficult to find an experienced contractor. Additionally, it can overspray onto the cars below. Because of these risks, it is important to find a roofing contractor who is experienced and has the right equipment to safely apply this type of roofing. Here are some other advantages of spray-on commercial roofing:
Unlike traditional asphalt shingles, spray-on commercial roofing is easy to apply. Specialty sprayers apply the polyurethane foam. The resulting lightweight yet durable surface provides excellent interior insulation and waterproofing. If properly installed, this type of roof is waterproof and can last for up to 50 years. However, this type of roofing must be properly inspected annually and should be performed only on mild days. This type of roofing has its advantages, but it is not recommended for every building.
This type of roof is considered to be the most economical, sustainable, and environmentally friendly roofing system. It consists of two liquid components, isocyanate, and polyol. They are heated in a proportioner and pumped through a spray gun. When sprayed on a roof, the liquid expands to form a seamless and stable surface. Its waterproofing and thermal insulating properties make this roofing system the best choice for many commercial buildings.
CATEGORY: ROOFING
TAGS: roof repair, roofing company, roofing contractor, roofing maintenance, roofing services
Depending on your building, you may need to replace your commercial roofing every 15 years or 50 years. Storms can damage roofs and leaks can affect the structure below. When these problems occur, you must have your roof replaced as soon as possible. In this article, we'll cover the different types of roofing available today.…
Recent Comments
No comments to show.